To maximize the impact of a roof color, it should complement the look and feel of your home's exterior, which can help boost curb appeal and give you a sense of pride in your home. But the color you choose should reflect your personality. Don't get a roof color just because it's the same color others are getting. Get what you want. But how do you figure out what color to pick?
This guide offers tips on how to choose the best shingle color for your home. Knowing your options helps you be prepared to discuss color choices with your roofing contractor so you can feel confident about selecting a shingle color for a roof you'll love.
ROOF COLORS AND HOME EXTERIOR DESIGN
Before diving into the main color categories for roof shingles, consider the following factors regarding your home.
Exterior design
Architectural style
Environmental setting
It's also easier to narrow down roofing shingle colors if you've decided on an exterior color palette.
Don't forget to factor in the overall look of hardscaping elements, like patios, stone walls, and wooden arbors, along with fencing and driveway paving. The design and structure of these items can influence your exterior aesthetic as well as their color.
Color Palette: Cool vs. Warm Colors
Before choosing a roof shingle color, take note of the other hues and shades of your home's exterior components, such as brick or siding, as well as the material or paint color of your window and door trim.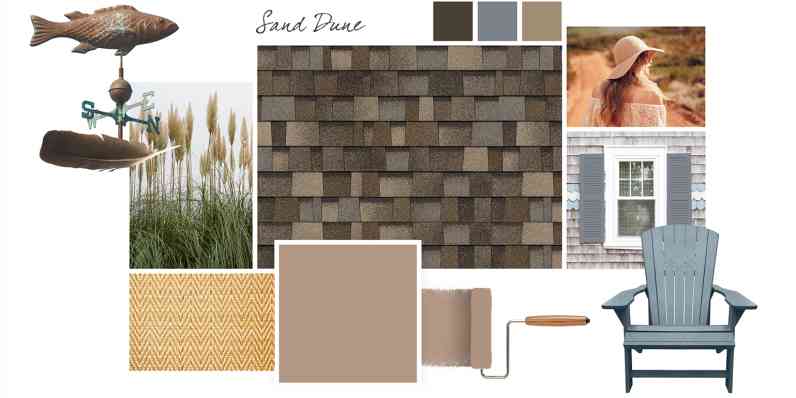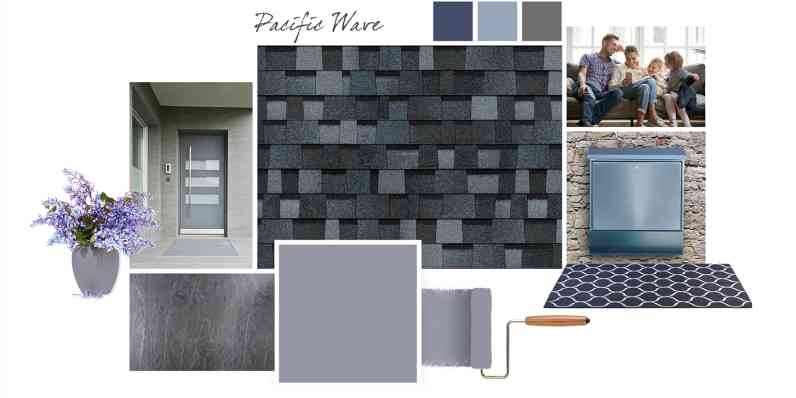 Styleboard with neutral and cool tones. Sand Dune colored shingles from Owens Corning, dusty blue adirondack chair, beach grass, grey shake siding with purple-grey shutters, medium tan paint swatch.Pacific Wave styleboard with medium grey front door, lavender-grey paint roller, dark patterned door mat, lavender potted plant, and a family sitting on a couch together. Pacific Wave colored shingle swatch from Owens Corning in the center.Is your home exterior color palette cool or warm? Cool colors have tints of blue, green, and purple, while warm colors typically contain reds and yellows. White and gray can work with either palette, depending on the undertones.
WHAT IS THE BEST COLOR SHINGLE FOR A ROOF?
The best roof color is one that you love and checks all the boxes for:
▣ home exterior design
▣ curb appeal
▣ resale value
▣ energy efficiency
▣ meeting any applicable building codes or HOA requirements
Roof Color and Curb Appeal
Depending on the architecture of your house, the roof can make up nearly 40% of your home's exterior. As a result, your roof material and color selection can significantly impact your home's overall curb appeal.
Can Roof Color Affect Resale Value?
Total roof replacements offer homeowners one of the best returns on investments, and a new roof is very attractive to prospective buyers. If you're thinking of replacing your roof before selling your home, you may be wondering which roof color is best for resale.
The best shingle color for resale is the one that complements your home exterior and appeals to the masses. But a neutral palette can also make you look like all the other houses.
Don't feel you have to stay with neutrals; the selective use of color can help you stand out from the crowd. A roof can be the perfect finishing touch on a well-designed exterior. Take time to explore today's roofing shingle color blends. You'll find that they use multiple tab colors to create interest and visual dimension. These colors are all opportunities to bring in pops of color that coordinate. A well-designed exterior can dramatically boost curb appeal and increase the perceived value of your home. In addition, home buyers are motivated to buy homes with a new roof due to the peace-of-mind protection it gives.
WHAT ARE THE MOST POPULAR ROOF COLORS?
In years past, popular roof colors fell into neutral categories: black, brown, gray, and tan. Today, these colors remain popular, but they aren't your typical flat black, brown, or gray shingles. Modern asphalt shingles have a variety of different color granules, giving them flexibility to match an exterior design palette. Where there used to be ONE shade of gray, now there is an abundance of gray hues, like green-gray, blue-gray, taupe-gray, and even purple-gray.
Homeowners are looking for ways to add personality to their homes, creating a market for unique color blends. Many of today's asphalt shingles fit into multiple color categories, like Owens Corning's Summer Harvest, Aged Copper, or Black Sable. The unique combination of colors on a shingle gives you some flexibility to change your exterior design over time.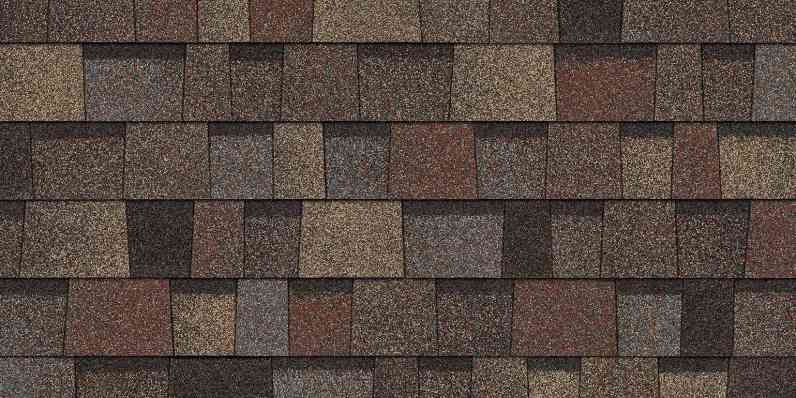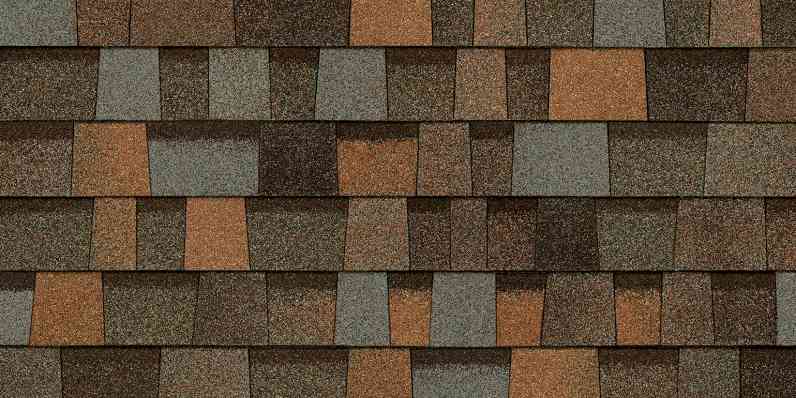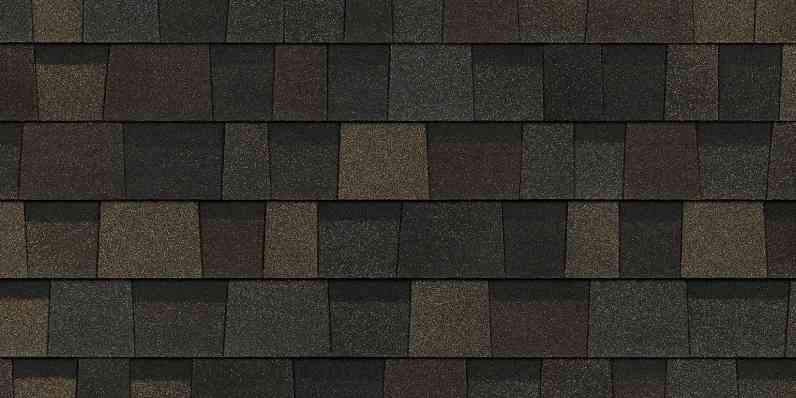 2023 TRENDS IN ROOF COLORS
In 2023, four stunning new shingle colors were added to the Owens Corning Duration® Shingle line: Midnight Plum, Peppercorn, Sand Castle, and Desert Rose.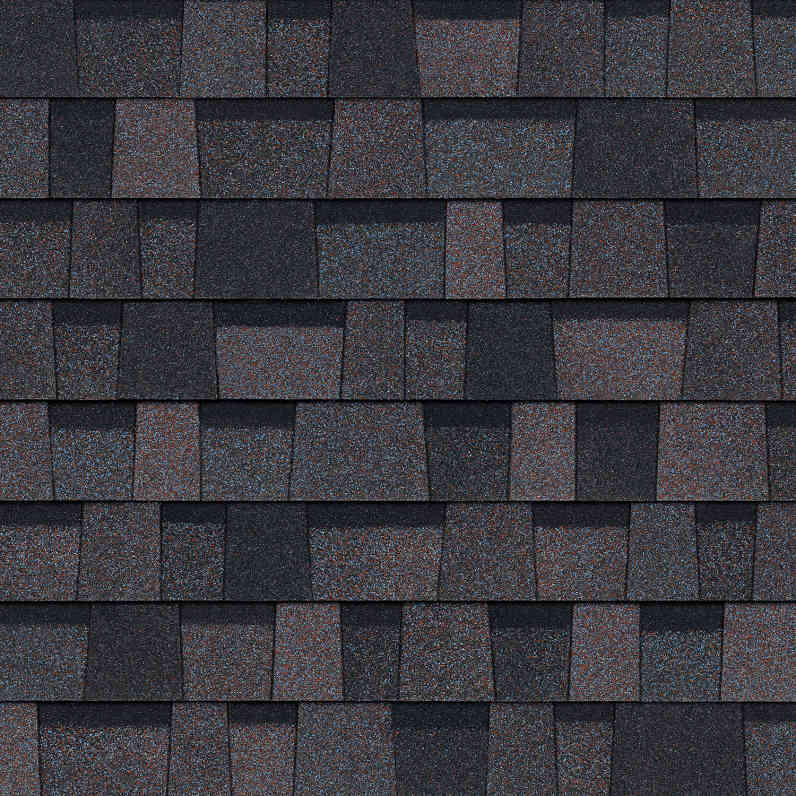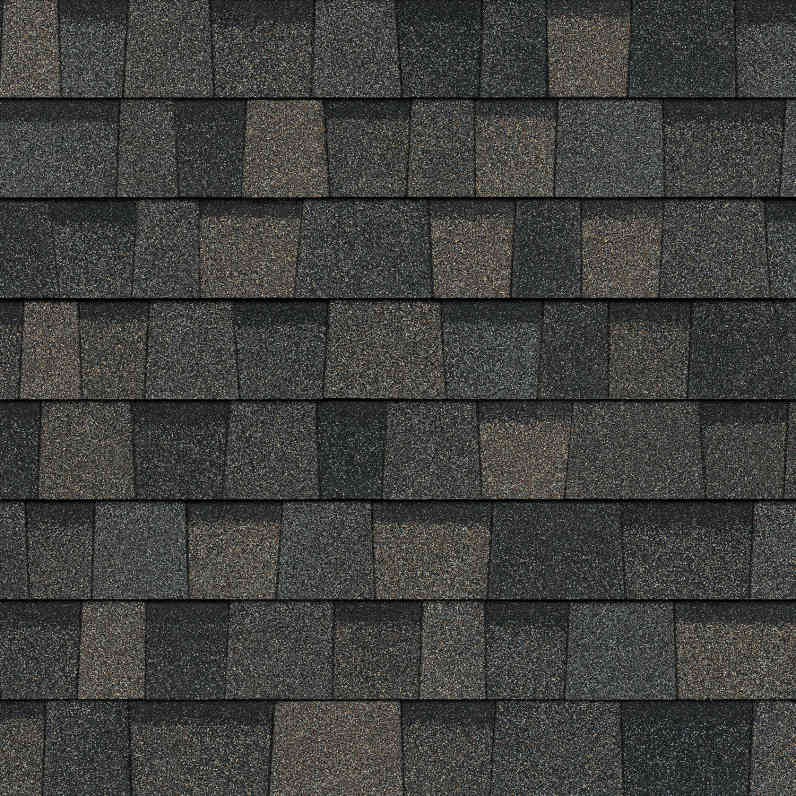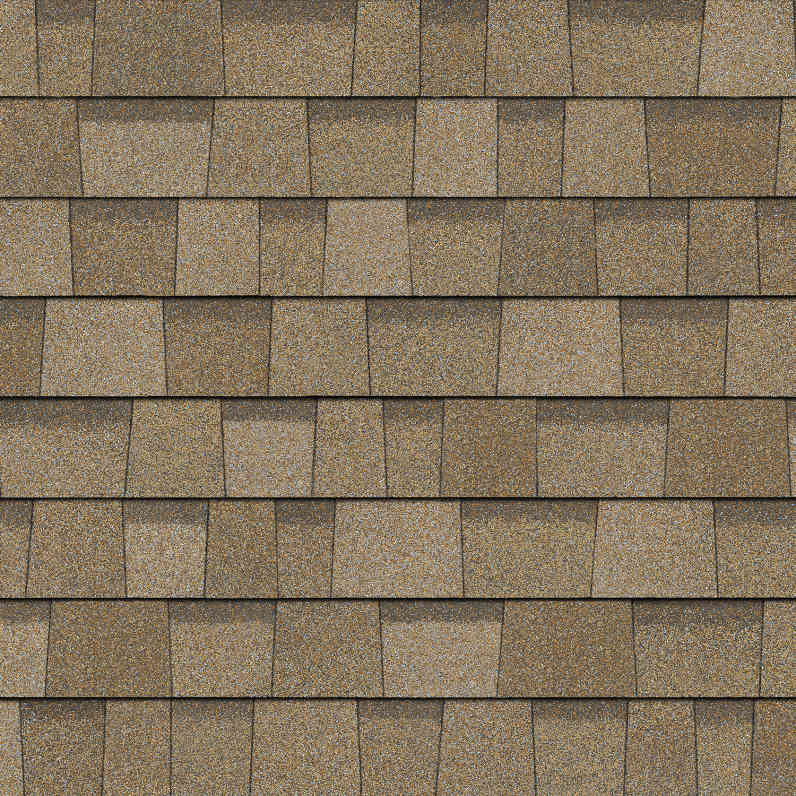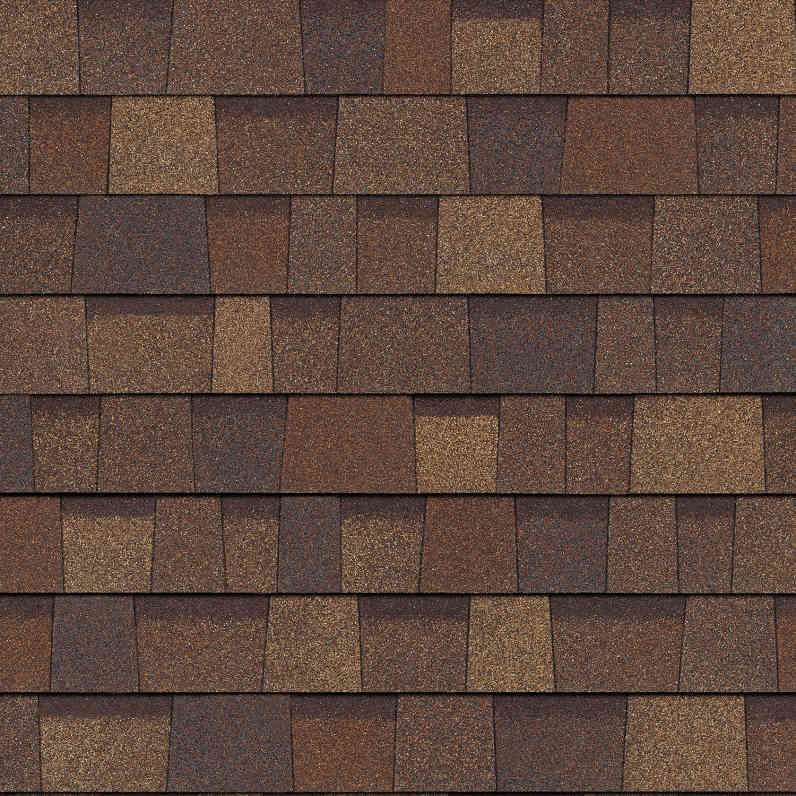 Each of these colors is designed to pair well with a wide range of exterior colors and architectural styles, ranging from coastal cottages to modern farmhouses to traditional brick homes.
2023 SHINGLE COLOR OF THE YEAR:
MIDNIGHT PLUM
Midnight Plum was named the 2023 Shingle Color of the Year. Midnight Plum is a bold and beautiful rich purple color, and the first of its kind in the roofing industry.
Designed for its versatility, Midnight Plum evokes tones found in nature, food, and current fashion and interior design trends. The purple undertones are infused with hints of pomegranate, eggplant, and mulberry. The Midnight Plum shingle color was designed to look as inviting on a contemporary dark modern farmhouse as it does on a traditional red brick home.
CLASSIC ROOF SHINGLE COLORS
Regardless of home design trends, gray, black, and brown roofs are often the go-to roof colors thanks to their timeless style and versatility with exterior home colors and building materials.
In general, roof shingle colors fall into a few main color categories and then vary in degrees of lightness, darkness, intensity, and contrast.
NEUTRAL SHINGLE COLORS
Black and Gray Roofing Shingles
Black roofing shingles are an excellent way to top off homes with light gray or white siding. The contrast creates a traditional, timeless look, and the neutral color palette gives you plenty of wiggle room for bold front door colors (think red).
If you prefer dark roof colors but aren't sure if you want to go with black or brown, then take a look at the new, more contemporary black shingle color blends, like the Owens Corning Duration® Designer shingle in the color Black Sable, which mixes in hues of black, beige and blue-gray.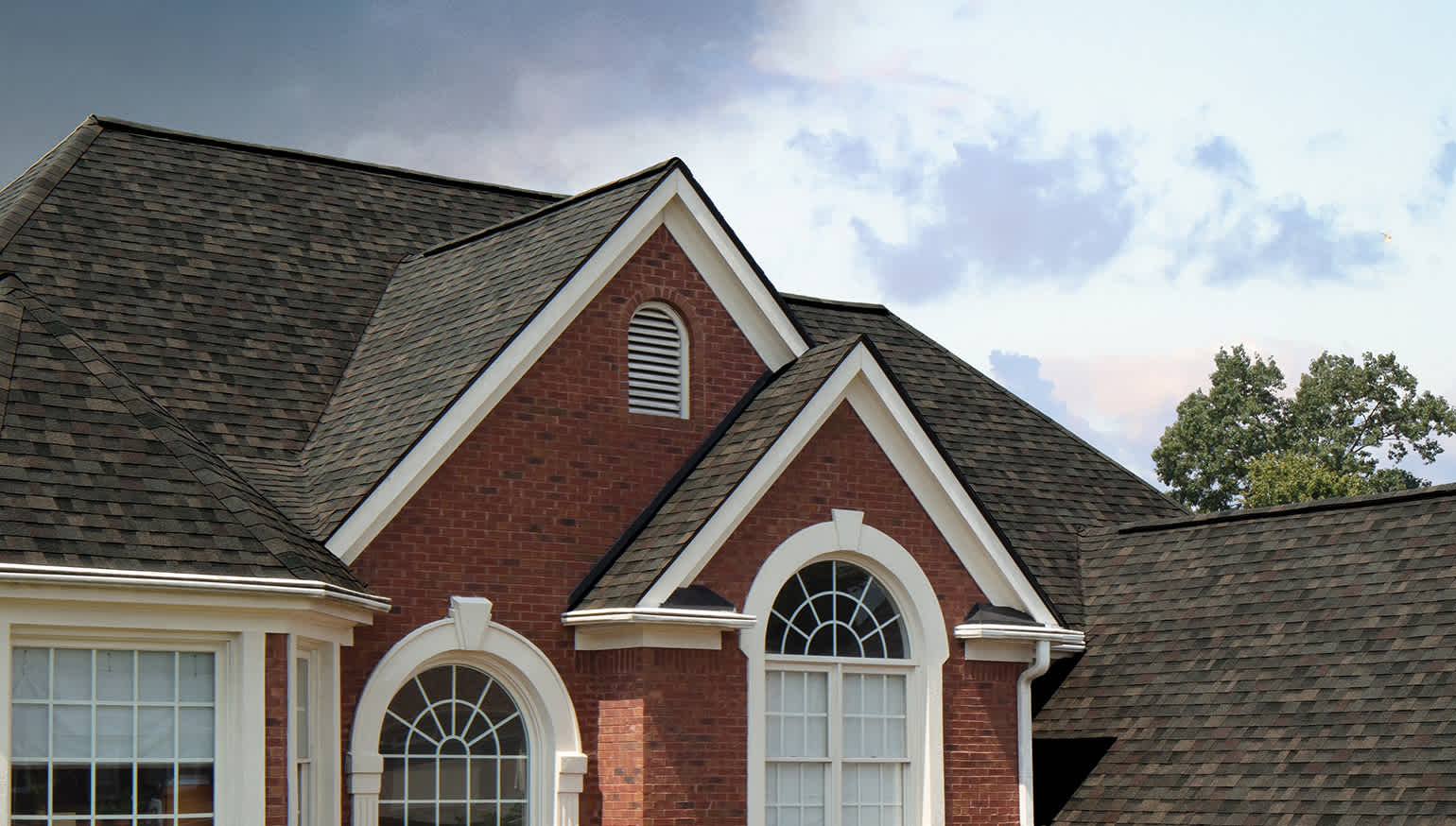 Gray has had its time in the spotlight for everything from interior walls to exterior siding and shingles. It's a great neutral tone that pretty much pairs with anything. Gray roofing shingles on a home with gray or white siding are a classic look, reminiscent of summer cottages and sandy beaches.
Of course, gray is also standard in traditional brick homes.  Determine if you want a warm gray with beige or yellow undertones or a cool gray with blue and green undertones. Matching a warm-toned gray siding with a cool gray roof could create a visual disconnect.  It's important to pair warm gray shingles with warm gray siding colors, and likewise, cool gray shingles with cool siding colors, to give your home an effortless cohesive look.
Brown Roofing Shingles
Although occasionally, brown roofing shingles may contain bits of cool colors, they typically are topped with red, orange, and yellow granules, placing them in a warm color palette. Brown shingles can vary from deep chocolate, perfect for complementing a Tudor design, to desert tan, ideal for a Craftsman-style bungalow with bright-colored siding. Brown shingle color blends, with their layered hues, make it easy to coordinate roofing shingles and exterior siding or brick.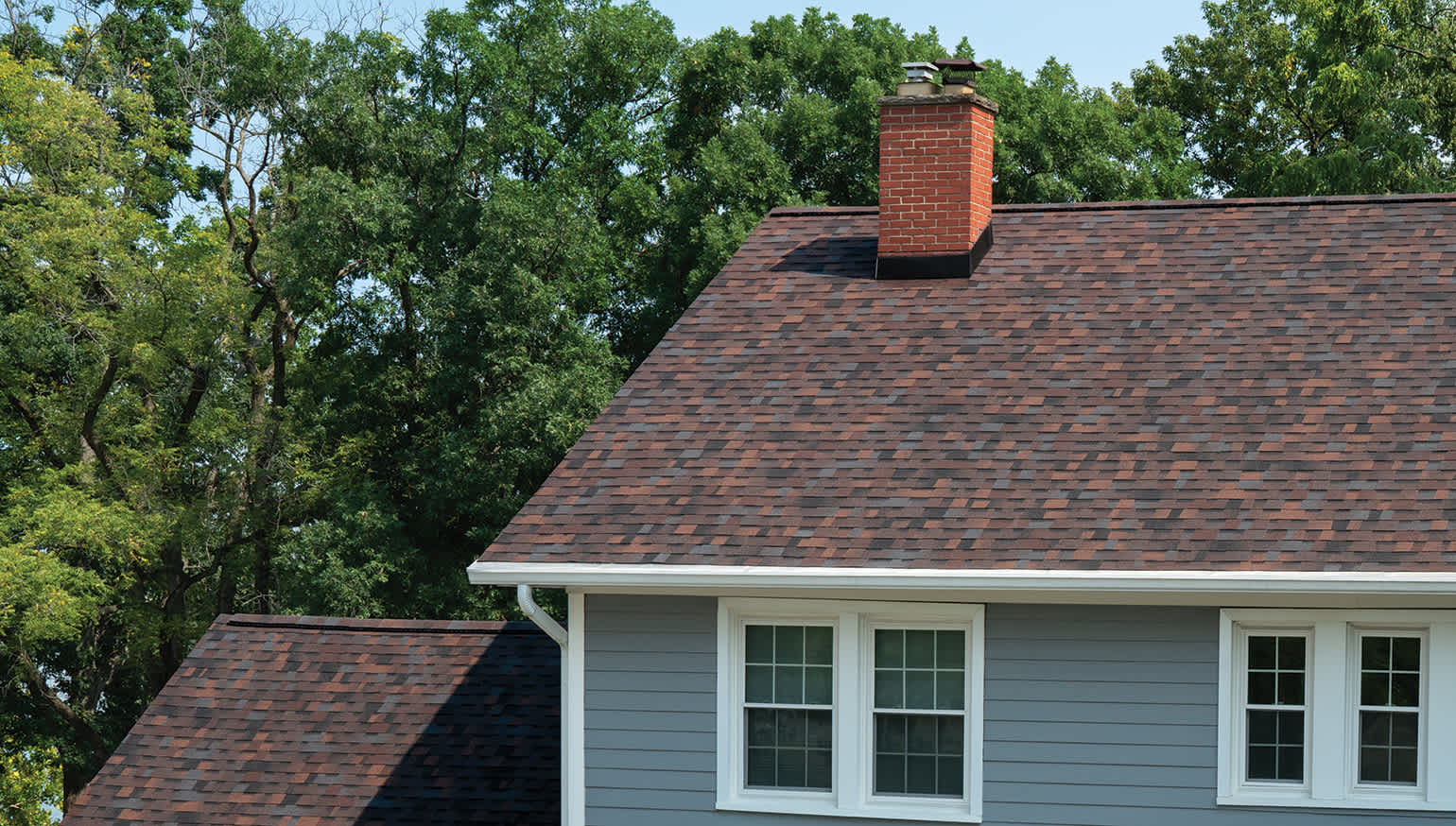 White Roofing Shingles
White roofing shingles are typically lighter gray or silver, giving them a clean, neutral look. White shingles on a white home present a clean slate, so you can add shutters and doors in contrasting colors. It also sets up a pleasant contrast with nearby trees and bushes. White-toned shingles are typically more popular in the sun-belt states of the U.S.
PLAYFUL SHINGLE COLORS
Purple Roofing Shingles
Purple roofing shingles are making their debut in a bold, rich purple-grey palette. Inviting and intriguing, the 2023 Shingle Color of the Year evokes the awe-inspiring tones that emerge after dark. With violet shades and touches of silver, this new hue is a distinctive yet versatile choice for homeowners. Many home exteriors and architectural styles pair well with purple roofing shingles, from dark, modern farmhouses to traditional red brick homes to California-style bungalows.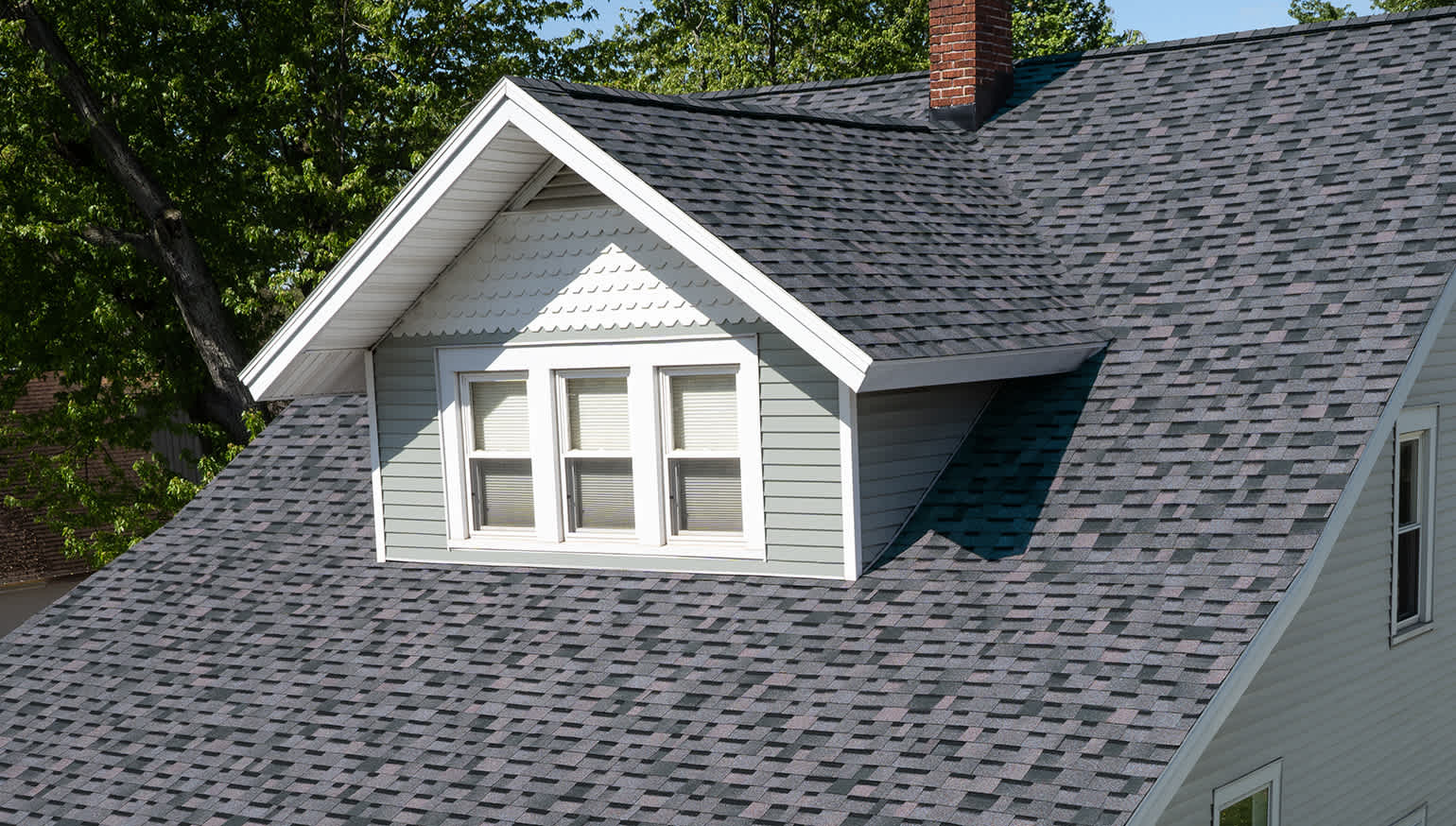 Red Roofing Shingles
You might be surprised at all the color combinations you can make with red roofing shingles. Warm and welcoming, red pairs well with a wide range of siding and brick colors, like white, tan, blue, and even olive green. Log and plank cabins can also benefit from a red-shingled roof.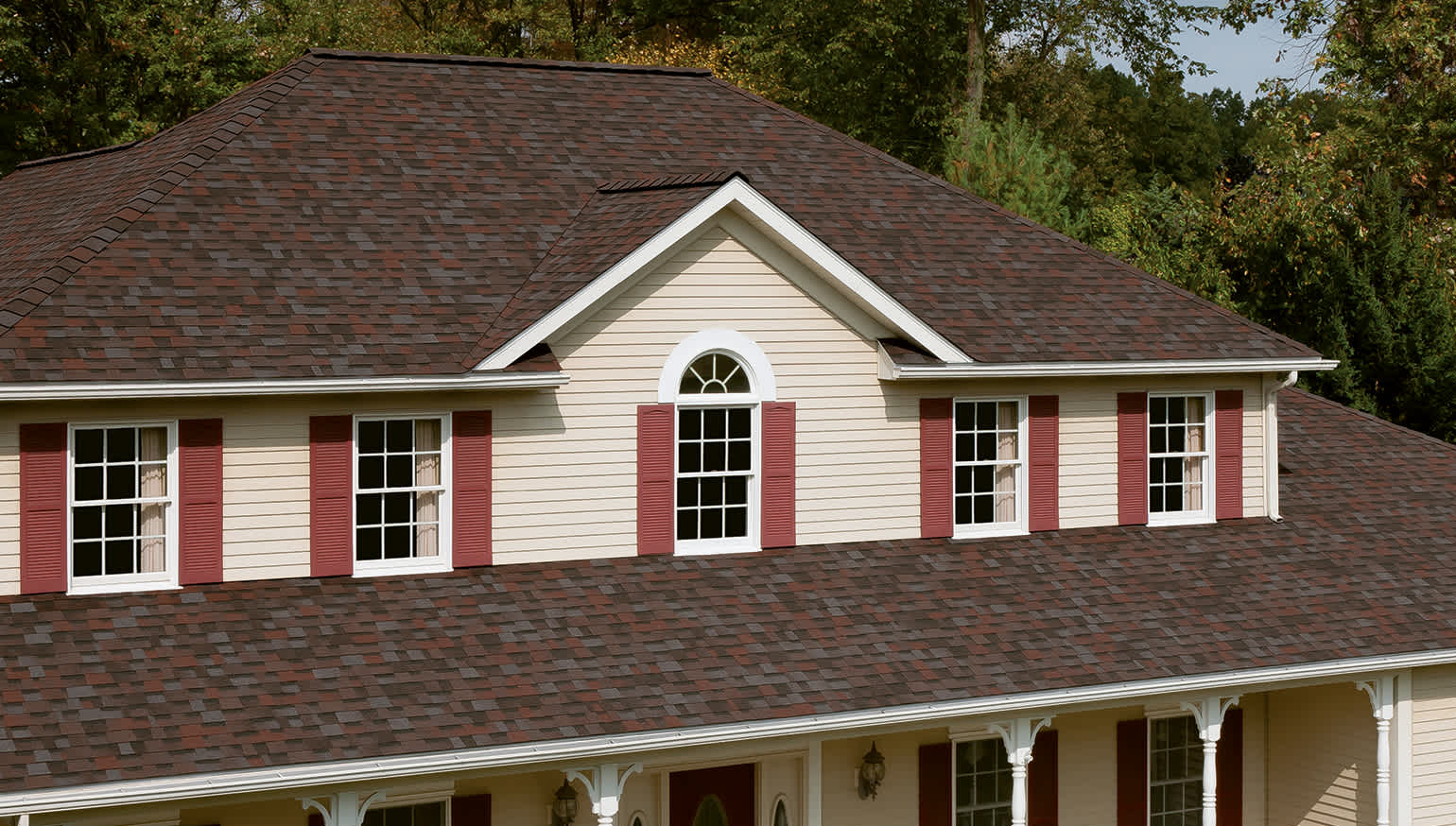 Blue Roofing Shingles
Blue roofing shingles may consist of multiple shades of blue or have grays and greens mixed in. While old-school blues were flat and highly saturated in color, today's blue is quickly becoming a favorite—almost a neutral color.  Traditionally blue was considered a niche color, but when installed on a home of red brick or white siding, it gives a crisp, fresh highlight to the home.  And the variability of the actual granule blends on the tabs allows the color to add excitement and interest to the roofline.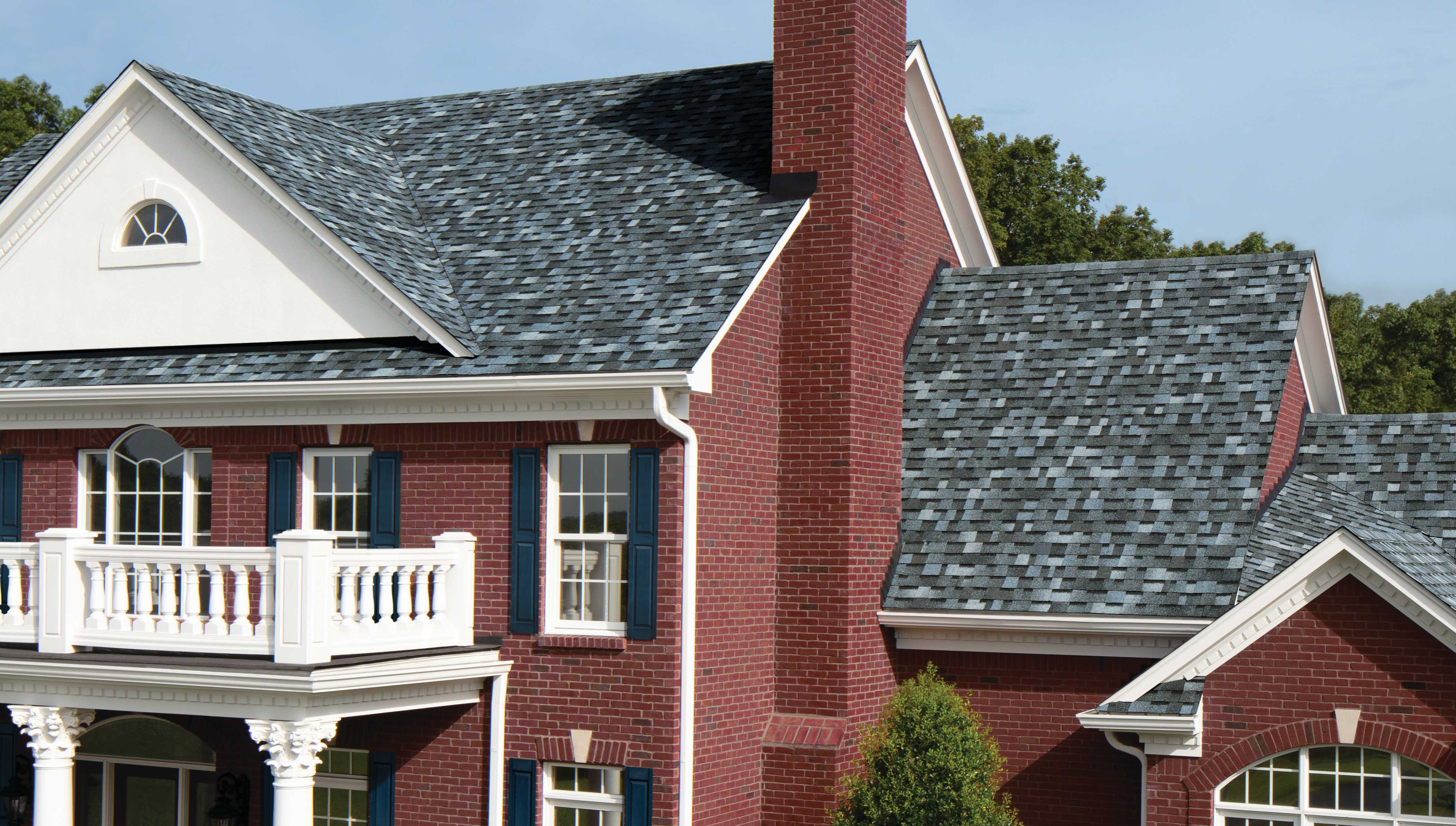 Green Roofing Shingles
Greens can fluctuate from warm to cool hues, depending on the addition of yellow and blue granules to the mix. Picture the look of a green-colored roof on a house with yellow siding and sparkling white trim versus green shingles atop a home with brownish-red brick. Both work equally well; it's all about your individual style. Consider your home's surroundings, including vegetation, if you're thinking of a green roofing shingle color.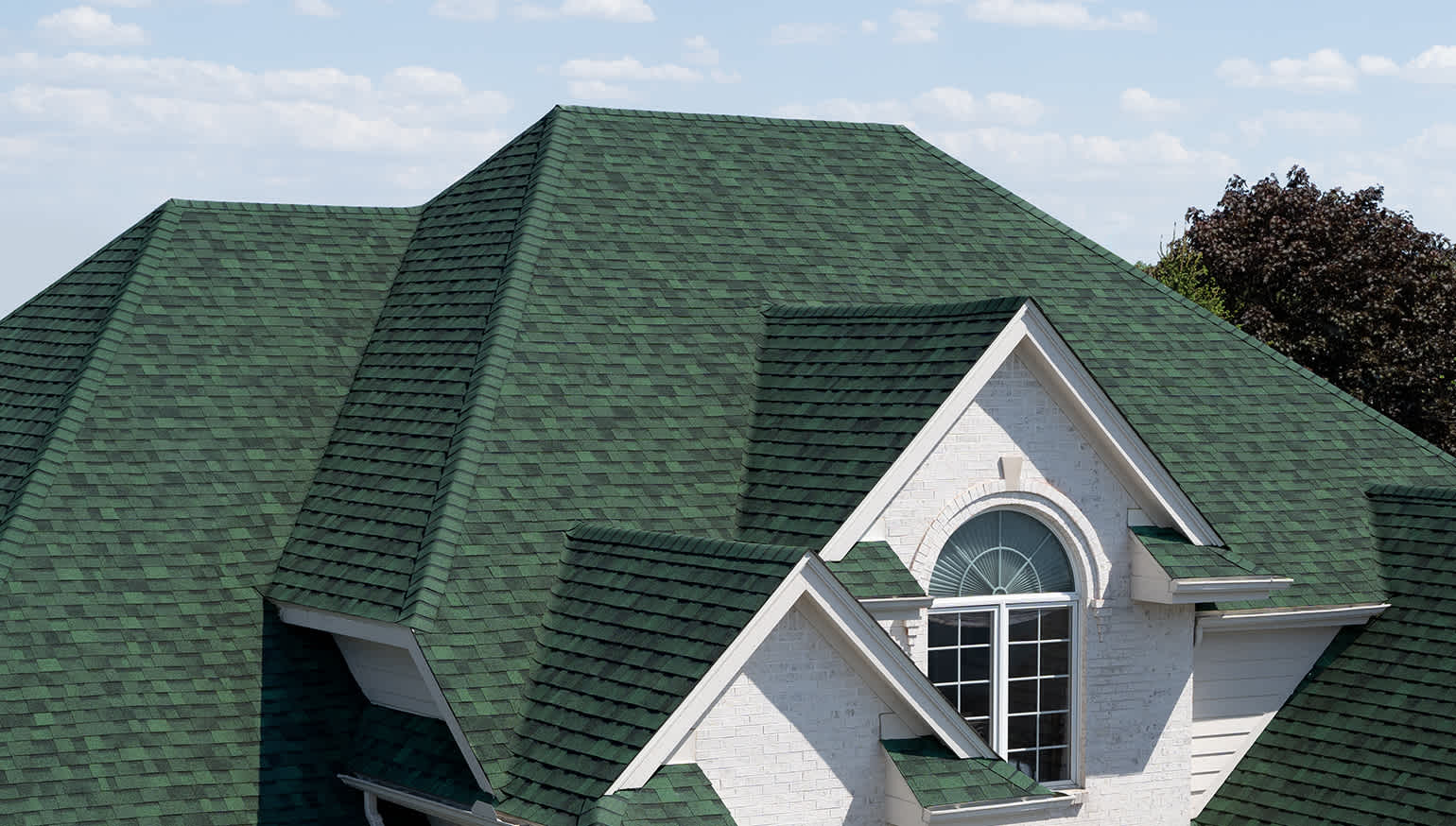 COLOR SELECTION TOOLS
Still need help feeling confident about your roof color selection? Our life-sized printed shingle color posters show all the various granules that make up the overall shingle color. You can easily compare different shingle colors side-by-side and narrow down your choices before getting a contractor involved. No pressure–make your color selection on your own timeline. When you have your choices narrowed down, we do recommend that you see a real product sample before making the final decision; your contractor can bring samples to your appointment. To learn more about our printed color posters, click below. (US only)
~Written By Owens Corning Roofing•Date Published 08/09/2023 https://www.owenscorning.com/en-us/roofing/blog/roof-color-guide
If you need help choosing a color or if you just need more information…
Give us a call, we would love to help!